The Meee team
From branding to business, education to neuroscience, it takes a lot of different skills to build the Meee Programme. Between all of us, we've:
Held workshops, think-tanks and careers clinics with over 250,000 people over the last decade
Built up over 30 years' experience working with people of all ages
Spoken to more than 1,000 businesses each year, from SMEs to PLCs
Achieved qualifications in education, and developed in-depth knowledge about the latest thinking around cognitive and neuroeducational theory
Want to get to know us better? You'll find our team profiles below.
Sid Madge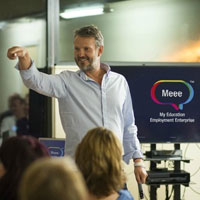 A brand strategist with over 30 years' experience, Sid set up his own agency, Mad Hen, back in 2009. Since then, he's crafted brand identities for countless companies, and held workshops with over 1,000 businesses and 3,000 young people every year.
It was during one of these workshops that Sid developed the idea for the Meee Programme, realising that he could channel his branding expertise to help people believe in who they are. After asking a group of school pupils to pick one work to describe themselves, Sid was horrified that 15% used terms like 'freak, 'weirdo' and 'misfit'. These words would come up time and again - not just with students, but with adults of all ages.
Over the past two years, Sid's been creating tools to help people feel more confident in themselves. Bringing together Sid's in-depth knowledge of branding with techniques from psychology, neuroscience, education and sociology, the Meee Programme encourages everyone to recognise and believe in their abilities.
In March 2015, Sid was invited to Number 10 Downing Street to present the Meee Programme to Lord Young, who endorsed it as 'a great initiative'. He's now working with Job Centres, rehabilitation centres and educational establishments across the UK.
Marc Ambasna-Jones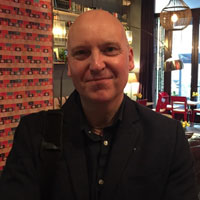 A desperate need to pay the rent on a bedsit lead Marc towards a career in writing. While working as a runner for a film production company in London, struggling to eat and pay the tube fare to get to work, he answered an ad for a trainee writer on a computer magazine.
It was the start of a career writing about technology and business and occasionally football, one that has seen work published in a range of national, consumer and trade titles including The Guardian, IDG Connect, The Register, New Statesman, Computer Weekly, Web User, Destinations and FourFourTwo. Marc has also ghostwritten articles and blogs for musicians, politicians, actors, academics, business leaders, entrepreneurs and leading lawyers, with work appearing in The Financial Times, The Times, The Guardian, Wired, New Statesman, Politics.co.uk, Sky News, Management Today and many more. Marc became involved with the Meee programme after seeing his old friend and Meee founder Sid Madge in a Ted Talk video.
Anna and Michelle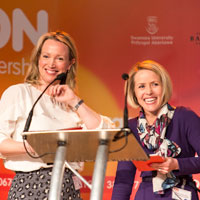 "Developing self-awareness and believing that we can do something different is what allows us to succeed. Helping us to work with others and build strong relationships in all areas of life. To be able to share these insights with people who wouldn't typically have access to them is very exciting. We can't wait to spread the energy of Meee!"
Qualified business coaches with over 35 years' experience between them, Anna and Michelle believe everyone can be a leader. Their time spent mentoring senior managers and teams in companies throughout the UK has taught them that, to be a successful leader, you have to be 'Change-Able'. And, by embracing change, unlock their full potential - and inspire others to do the same.
In 2016, they brought this insight to the Meee Programme - along with an aspiration to share rewarding, beneficial personal growth techniques usually only accessible to business leaders.
Laura Bell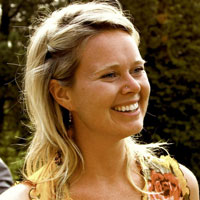 Founder of The Zest Life, Laura discovered yoga quite literally by accident. She was thrown from a boat in Australia 15 years ago and broke her back. After three months of rehabilitation she could walk again, but a long period of recovery was on the cards. After being told that yoga would be the best exercise to help, she took it up - and it took her life in a completely new direction.
Laura now teaches weekly yoga classes and workshops to adults in north Wales. Over the past ten years she has instructed kids aged 3-18, many with physical and mental disabilities, pre- and post-natal women, individuals with breast cancer and clients with various injuries. Most recently, she set up luxury yoga retreats on Anglesey, which the Guardian listed among the top ten in the world.
Laura became involved with the Meee Programme last year, bringing her knowledge to workshops across north Wales, and sharing the benefits of yoga. She was fundamental in helping to organise and run the Meee summer camp in July 2015 for twenty local children aged 10-17. Her personable yet professional attitude towards both teaching and business management, and her passion for health and wellbeing, rubs off on all she works with.
Richard Dallison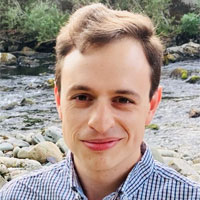 While studying for his BSc in Geography at Bangor University, Richard honed his skills in producing professional work, based on meaningful research and clear data analysis. Skills he would apply not just to coursework, but to wider community projects. It was while working on the launch of a locally owned hydroelectric development that Richard met Sid, who invited him to join the Meee Programme team at the end of his studies.
Since joining Meee, Richard has been closely involved with developing the website but he has mainly been putting his talents for research and data analysis to good use by examining the success of Meee workshops. Working from questionnaires answered by participants of the workshops, Richard analyses the value of the programme components, helping to target improvements to the programme for future participants, making sure we are continually learning and improving. Richard now works part-time for the programme while he is completing a PhD in Environmental Science back at Bangor University.
Mat David
Professional Actor Mathew David, has been working in the entertainment industry for over 6 years. He has worked on big productions with the BBC and American tv company Stars. Mathew a BAhons degree from Aberystwyth University and an MA in Acting from the Royal Welsh College.
Mathew works as a casting director for various production companies, recruiting the right actors for roles in films. Mathew has been employed by many companies to train and assess their staff to improve interpersonal skills. He has trained those in the medical profession and also worked with companies like BMW and Costa.
On a part-time basis, Mathew works as a street ambassador for Cardiff working with the general public, vulnerable people and the homeless. Mathew has worked in various industries such as insurance, student housing, retail, bars, cinemas restaurants and has a very good knowledge of the recruitment process.
Mathew now works with the Meee to deliver our programme, building people's confidence and encouraging them to achieve their goals.
Marcus Davies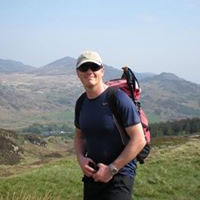 From the Armed Forces to Social Services, Marcus has gathered a range of skills to aid his current training role. For 13 years he worked within an innovative Local Authority, his roles have included being the Violence & Aggression Coordinator/trainer within a Social Services department, consulting on the personal safety of staff at a local and strategic level. He regularly delivers university lectures to social work students in this subject. For 8 years Marcus worked within a training department where he was responsible for producing and delivering bespoke courses to a variety of services throughout the Council.
As an Outdoor instructor one of Marcus' passions are working with young people, "it was fantastic to see how much young people grew in confidence when they challenge themselves on an abseil/climb or mountain bike." Marcus has been an active member of the North Wales community having volunteered as a community First Responder for the Welsh Ambulance Service since 2005. His role as a trainer has spanned over the past 15 years and has continued to challenge and motivate him. Marcus now works with Meee to deliver our programme to our clients, helping them to achieve in every way they can.
Megan Evans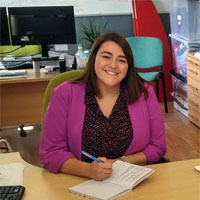 Meg has always had a huge passion for marketing and promoting the 'good things' in life. Meg has always been lucky with the opportunities that life has presented but never quite had the self-confidence to carry them forward. After meeting Sid at a Business Wales Branding and Marketing course, Meg found the Meee Programme. Meg believes that everyone is intelligent in their own way, sometimes they need a little help to discover a direction and ignite their passions.
Working closely with the DWP, Meg will be liaising with customers and supporting trainers on all of our courses. Meg will also be working on PR and promoting the Meee Partnership and all the great work that's being achieved. Meg believes it is important to help children and adults to see the positives in their lives and their own abilities. Meg believes that in many cases people think they won't be able to achieve something because of their life circumstances but everyone deserves a chance to change their life, and the Meee Programme helps people realise that.
Tia Evans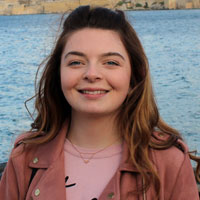 Tia recently graduated from Liverpool John Moore's University where she studied English Literature. From an early age, she had a passion for books and was fascinated by the lives of the people she read about. Now, Tia uses this and has developed it into a flair for writing and a love of people.
Growing up in Holywell, Tia stood out from the crowd. With a craving for learning, Tia knew she wanted to go to University and with her determination and hard work improved her grades and got her where she is today. Tia believes that where we start out in life doesn't have to dictate where we end up and hopes to help others realise their full potential.
Tia began working for Meee after meeting Sid and Jo at a marketing event, a chance encounter that helped her to become the marketing and communications officer. Tia's key role is to support our clients with business communications, managing the website and social media marketing material. You'll often spot Tia with a camera in hand and wanting to hear all about our client's stories.
Jamie Grundy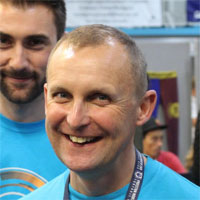 Jamie left school with hardly any qualifications, but a passion for sport. Building on this he worked in leisure, gained some actual qualifications, became a qualified football coach and worked for Bobby Charlton and Manchester United. Jamie then moved to Cardiff where he came to study at university as a mature student. His experiences here ignited in him a passion for working within communities to help people reach their fullest potential, especially those who's personal circumstances are sometimes the most challenging.
Most recently he has been mentoring prisoners into higher education as a way of reducing reoffending and paying back to society; both inside and outside of prison. This work has seen him work with prisons across South Wales and is unique in this field of education. Jamie works with the Meee programme to deliver our workshops, meeting all sorts of fantastic people along the way. His skills and experiences are well suited to working with the Meee: helping individuals become the best they can be and believe in who they are.
Tony Ormond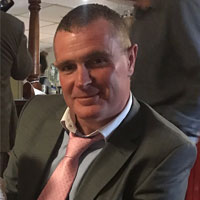 Tony by his own acknowledgment has limited qualifications in terms of meeting criteria for many roles but makes up purpose with his life experience. Having spent 22 years in active drug addiction Tony's main asset is his experience and his ability to utilise that experience to assist others to break free from dark places and become better people. Tony is enthused by people who have a desire for change and wish to make a difference in community. Previously Tony has developed and delivered a therapeutic programme in a 23 bed 12-step rehab and has a zest for social justice. Tony has worked in and around the Health & Social Care sector for over 6 years.
Tony is an ambassador for 'Change' and has co-produced transformative work throughout Wales. Tony devised and delivered a Wales wide Mutual Aid roadshow which was commissioned by the Government. Tony has a passion and undiluted enthusiasm for creating vibrant and abundant communities that he remains apart of today.
Tony works with the Meee Programme as head of rehabilitation & recovery. Tony aims to provide essential support to those going through the recovering process believing that anyone suffering from substance misuse disorder can stop their addiction and find a new way to live. Tony is currently writing his own biography all about his life story, focusing on overcoming substance misuse and finding a better life.
Get in touch
If you would like to get more information on the team, our experience, and our capabilities, then give us a call on 01248 354 003, email info@meee.global, or send us a message.