The Meee team
From branding to business, education to neuroscience, it takes a lot of different skills to build the Meee Programme. Between all of us, we've:
Held workshops, think-tanks and careers clinics with over 250,000 people over the last decade
Built up over 30 years' experience working with people of all ages
Spoken to more than 1,000 businesses each year, from SMEs to PLCs
Achieved qualifications in education, and developed in-depth knowledge about the latest thinking around cognitive and neuroeducational theory
Want to get to know us better? You'll find our team profiles below.
Sid Madge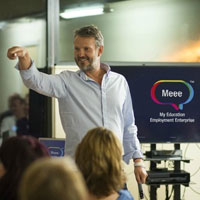 A brand strategist with over 30 years' experience, Sid set up his own agency, Mad Hen, back in 2009. Since then, he's crafted brand identities for countless companies, and held workshops with over 1,000 businesses and 3,000 young people every year.
It was during one of these workshops that Sid developed the idea for the Meee Programme, realising that he could channel his branding expertise to help people believe in who they are. After asking a group of school pupils to pick one work to describe themselves, Sid was horrified that 15% used terms like 'freak, 'weirdo' and 'misfit'. These words would come up time and again - not just with students, but with adults of all ages.
Over the past two years, Sid's been creating tools to help people feel more confident in themselves. Bringing together Sid's in-depth knowledge of branding with techniques from psychology, neuroscience, education and sociology, the Meee Programme encourages everyone to recognise and believe in their abilities.
In March 2015, Sid was invited to Number 10 Downing Street to present the Meee Programme to Lord Young, who endorsed it as 'a great initiative'. He's now working with Job Centres, rehabilitation centres and educational establishments across the UK.
Laura Bell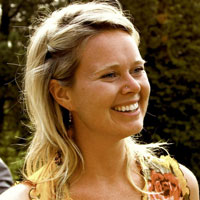 Founder of The Zest Life, Laura discovered yoga quite literally by accident. She was thrown from a boat in Australia 15 years ago and broke her back. After three months of rehabilitation she could walk again, but a long period of recovery was on the cards. After being told that yoga would be the best exercise to help, she took it up - and it took her life in a completely new direction.
Laura now teaches weekly yoga classes and workshops to adults in north Wales. Over the past ten years she has instructed kids aged 3-18, many with physical and mental disabilities, pre- and post-natal women, individuals with breast cancer and clients with various injuries. Most recently, she set up luxury yoga retreats on Anglesey, which the Guardian listed among the top ten in the world.
Laura became involved with the Meee Programme last year, bringing her knowledge to workshops across north Wales, and sharing the benefits of yoga. She was fundamental in helping to organise and run the Meee summer camp in July 2015 for twenty local children aged 10-17. Her personable yet professional attitude towards both teaching and business management, and her passion for health and wellbeing, rubs off on all she works with.
Anna and Michelle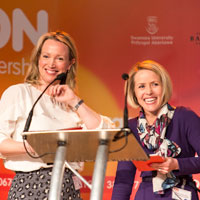 "Developing self-awareness and believing that we can do something different is what allows us to succeed. Helping us to work with others and build strong relationships in all areas of life. To be able to share these insights with people who wouldn't typically have access to them is very exciting. We can't wait to spread the energy of Meee!"
Qualified business coaches with over 35 years' experience between them, Anna and Michelle believe everyone can be a leader. Their time spent mentoring senior managers and teams in companies throughout the UK has taught them that, to be a successful leader, you have to be 'Change-Able'. And, by embracing change, unlock their full potential - and inspire others to do the same.
In 2016, they brought this insight to the Meee Programme - along with an aspiration to share rewarding, beneficial personal growth techniques usually only accessible to business leaders.
Richard Dallison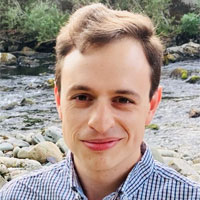 While studying for his BSc in Geography at Bangor University, Richard honed his skills in producing professional work, based on meaningful research and clear data analysis. Skills he would apply not just to coursework, but to wider community projects. It was while working on the launch of a locally owned hydroelectric development that Richard met Sid, who invited him to join the Meee Programme team at the end of his studies.
Since joining Meee, Richard has been closely involved with developing the website but he has mainly been putting his talents for research and data analysis to good use by examining the success of Meee workshops. Working from questionnaires answered by participants of the workshops, Richard analyses the value of the programme components, helping to target improvements to the programme for future participants, making sure we are continually learning and improving. Richard now works part-time for the programme while he is completing a PhD in Environmental Science back at Bangor University.
Laura Sutton
Laura joined the Meee programme when she moved to Anglesey in October 2016, She had spent six months working in a hotel and decided it was time for a change. While at university, just across the Straits in Bangor, she started a blog, at first blogging to friends and family it quickly grew and in 2014 she was listed as one of the top 10 student bloggers in the UK. It's the skills she developed through blogging that she puts to use here at Meee, as our Social Media Guru she manages our online presence across several platforms.
You will see Laura attending most of our workshops, taking lots of photos as well as getting to know each participant in order to put together a pack of opportunities for each group, this could include courses, volunteering opportunities or contact details for local agencies all picked specifically for each course based on the topics discussed and preferences expressed in each session.
Claire Marie Brock
"I get a real buzz from bringing words to life and instilling enthusiasm in others. I'm particularly interested in developing talent and nurturing people to perform to the best of their abilities."
Claire is passionate about 'change management' and is driven by a desire to shift perceptions, whether it's on an individual or organisational level. She holds a First Class degree in Media Communications and Writing and has over 25 years of experience in the media. An expert in social media, journalism and public relations, Claire has also held several lectures at Glyndwr University.
Recently, Claire has acted as an advisor on strategic communication issues to senior executives at the world-famous Llangollen International Musical Eisteddfod. She became a member of the Standing Board in July. She is also a school governor and trustee of the local pre-school playgroup.
Claire is currently working on her first book and developing social media applications to help bereaved younger people. And, in what spare time she has left, Claire enjoys reading, cooking, 'running' and spending time with her partner and four year old twins.
Get in touch
If you would like to get more information on the team, our experience, and our capabilities, then give us a call on 01248 354 003, email info@meee.global, or send us a message.