Welcome to Meee (My Education Employment Enterprise)
At heart, we all want the same things: to feel like we belong, to make a difference, to love, laugh and enjoy our work and life. Our programmes help everyone get closer to this essential truth. We draw on thinking from the worlds of branding, psychology, neuroscience, education and sociology, to help people of all ages and backgrounds find new meaning and direction.
Everyone deserves a change. Everyone has something to give. And everyone has what it takes to lead a creative, joyful, fulfilling life. To date, we've helped 20,000 people - and this is just the beginning.
Meee Values
If values do not affect daily life, they are not values.
At Meee our values are central to who we are, what we do and why we do what we do. Everyday they shape, guide and fuel what we do. Here's why:
Change - Meee changes lives. What we do has a tangible impact on people's lives. It's powerful. And it matters.
Creativity - Creativity is the cornerstone of what we do. Deep down, everyone is creative. We were full of ideas, dreams and imagination as small children. And the Meee Programme reconnects us with that.
Dynamic - We embrace change. We help create change in people's lives. We do not accept that things have to stay the way they are. We're a sponge, not a stone.
Kind - We're all in this life together. So we're always kind, empathetic, respectful and supportive. True kindness lies in the act of giving, without expecting anything in return.
Truthful - Open, honest and transparent. We will never pull the wool over your eyes.
Understanding - We're not all created the same. Life deals everyone a different hand. So we're always aware of others' feelings; tolerant and forgiving.
Meee Books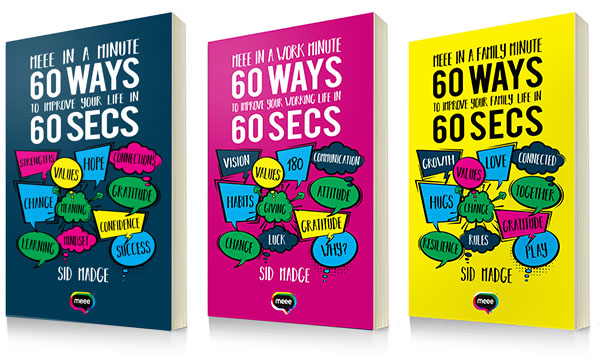 Follow us on Twitter
How Meee helped me
After we finished that Friday, I went over what we had learned and put a positive mind on and I'm glad to say the program works as I managed to secure two interviews two different companies. I am feeling so positive since doing your course it has been non-stop all good for me.
I even passed on my experience and what I learned to my fiancee, Debbie and within days of her getting up and being positive has now secured herself a job at the F&F clothes department in Tesco's Prestatyn Paul
Read more testimonials
"I said 'Somebody should do something about that.' Then I realized I am somebody"
Lily Tomlin