Welcome to Meee (My Education Employment Enterprise)
At heart, we all want the same things: to feel like we belong, to make a difference, to love, laugh and enjoy our work and life. Our programmes help everyone get closer to this essential truth. We draw on thinking from the worlds of branding, psychology, neuroscience, education and sociology, to help people of all ages and backgrounds find new meaning and direction.
Everyone deserves a change. Everyone has something to give. And everyone has what it takes to lead a creative, joyful, fulfilling life. To date, we've helped 2,400 people - and this is just the beginning.
Meee Beliefs
We help people find their sense of purpose and lead a more rewarding, value-driven life. And we practise what we preach. Here are the six beliefs that guide everything we do.
We believe:
We believe that nobody should ever be excluded.
We believe that where you start in life shouldn't determine where you end up.
We never underestimate the power of expectations.
We believe that you are your education, your teacher and your future.
We will create positive environments to enable you to become the best version of yourself.
We believe that it is never too late.
Meee in a Minute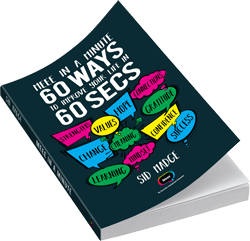 A book of 60 short punchy chapters that each take one-minute to read.
It is a collection of life hacks, advice, insights, science, stories, short exercises or thought experiments and quotes that can help you improve your life in a minute.
Follow us on Twitter
How Meee helped me
After we finished that Friday, I went over what we had learned and put a positive mind on and I'm glad to say the program works as I managed to secure two interviews two different companies. I am feeling so positive since doing your course it has been non-stop all good for me.
I even passed on my experience and what I learned to my fiancee, Debbie and within days of her getting up and being positive has now secured herself a job at the F&F clothes department in Tesco's Prestatyn Paul
Read more testimonials
"The more I live, the more I learn. The more I learn, the more I realize, the less I know"
Michel Legrand