The Meee (My Education Employment Enterprise) Programme empowers people to understand and believe in who they are
Hello and welcome to Meee, an educational programme like no other. Helping people find happiness and success by changing the way they think about themselves.
Through highly engaging, practical workshops based around Education, Employment and Enterprise, we reach people of all ages, empowering them to find a path in life that will make them happy.
Read on to find out more about Meee, who we are and why we set up the Programme.
Latest Resources
Latest News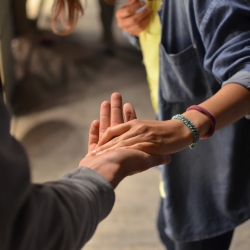 Community Care Collaborative Event
Last week, Sid and Tony attended an amazing event in Wrexham. It was hosted by CCC (Community Care Collaborative) but with a focus on a strand of its work with CCH (Community Care Hub). The event was held to build on the great work done so far to help Wrexham's most vulnerable/in need cohort. There were over 100 people at the event that all came to contribute some productive ideas on how to take the initiative to the next level.
Read more...
Latest Tweets
Tweets by Meee_HQ