It's just a dog, right?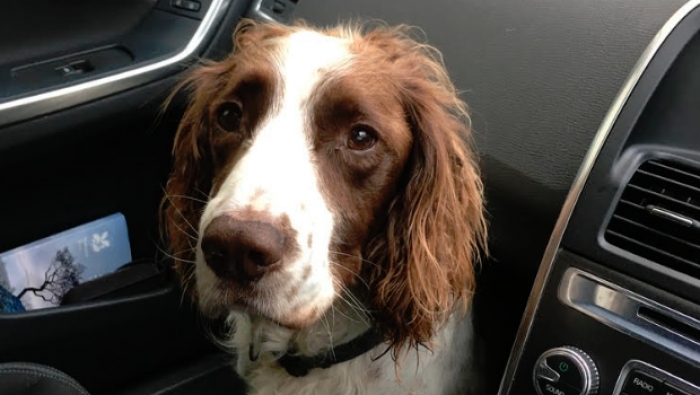 For those of you who have a furry friend, we are sure you're aware of the many benefits having pets can bring to your life and particularly your mental health. Living alone can be isolating, getting outside can be daunting and learning to care for others can be near impossible. All of these, however, are made possible with the addition of an animal into your family. Companionship, unconditional love and friendship are just a few of the reasons we should mention.
Our founder, Sid, wanted to share his story about the love he has for his very own four-legged friend, Bilbo:
It's just a dog, right? This is a saying that is often said to me directly or around me by loved ones, friends and many others I've met over the years.
So how would you describe something or someone who constantly saves your life? Best-friend, saviour, buddy, companion, rock, redeemer, angel, hero? Perhaps you simply can't put it into words.
For me, my hero is Bilbo. Bilbo is an 8-year old springer spaniel who has lived with me ever since I decided to relocate from London in 2010. I decided over 8 years ago that I wanted out from the corporate world of London and Amsterdam and moved to a cottage 6 miles outside a small north Wales town called Bala. Inspired by my wonderful daughter Lily, aged 10 at the time, I decided to take up permanent residence in a cottage I had owned for 10 years. Its location is within the amazing Berwyn mountains and is very remote. A friend of mine reminded me that I could now own a dog that had always dreamt of but had never lived in the right place. Within 6 days Bilbo came to live with me, he was just 8 weeks old and the last puppy left from a litter of 8.
For the first 5 years of his life, Bilbo and I traveled to every meeting, every hotel and every talk and workshop I gave. I made sure that any travel I undertook could accommodate for Bilbo, my fellow adventurer so that he could attend all of the events I went to. Bilbo was often the star when audiences have been troubled and facing challenging times and everyone adored meeting him.
One of my most memorable times with Bilbo was when I once gave a talk in Flint to some youngsters who had been excluded from mainstream education. I was finding the session particularly difficult when a slide of Bilbo appeared on my presentation. The group asked where he was and when I said: "in the car" they asked if they could meet him. "Of course," I said and Bilbo joined our session. It was a complete 180. After meeting Bilbo, they loved him and the session was a huge success. Bilbo's stage career was truly born.
He has always been center stage in my life. Without him, I wouldn't be here. Over the past 8 years, I've battled my own demons and dementors. The agony and ecstasy of a creative mind, the highs, and lows of getting older and the peaks and troughs of just getting by have always questioned my reason to exist. The answer has always included Bilbo. Without me, no one would love or care for him as I do. So stay I must and battle on I do.
Please don't think that my life is full of doom and doubt because it's definitely not. I have a wonderful partner, amazing children, an awesome job and a great life. But I do struggle. Say what you like, life does and often can get me down.
But for me my rock, my savior, my mentor, and my hero is Bilbo. The walks, the talks, the wags, the hugs, and the wonderful silences are all part of my best four-legged friend.
There are many wonderful books, films, and blogs about dogs. So, should you wish to find yourself in search of some more meaning, look no further than a dog, or cat or any pet that gets you?
The take-home message is to always remember that the one change may seem insignificant can actually have a huge snowball effect on the rest of your life. If that means adopting a dog, going out for more walks or simply making your bed every morning - each change is a step closer to being where you want to be in life.
For more information about our work please email us at info@meee.global
One of the best ways to read more about why we do what we do is to buy our latest book 'Meee in a Minute' for just £8 at www.meeebooks.com. You can also now purchase our audiobook here!
Many thanks from us all at Meee.