Lets Be Grateful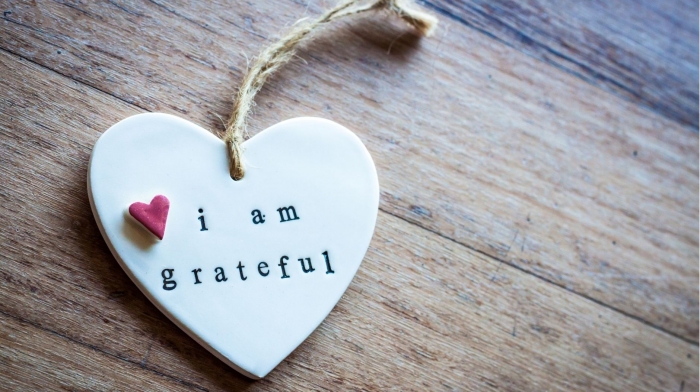 For those of you who have attended one of our programmes, you will know we are all about expressing gratitude. One of our favourite activities is writing a gratitude list every night to help put everything into perspective because when we are grateful, we feel good.
I understand that writing a list may be difficult for those who do not write a gratitude list regularly. In fact, it seems that most people struggle to come up with the first few things/people to be thankful for but once they get into it, it's easy to appreciate all the good in our lives.
You should aim to write down around 10 things that make your life easier, happier or simply worth getting up for. Sometimes it can be difficult to think about things to be grateful for, especially if you are having a tough time. Being grateful however may help you realise that you have plenty of things that motivate you to be the best version of yourself.
Don't be afraid to choose materialistic items on your grateful list either! There is nothing wrong with being thankful for your car or your laptop because these things give us access to information and new places. Remember to always look for the positive - there is no right or wrong thing to be thankful for.
My grateful list:
1. My love for books and the knowledge it provides.
2. Friends across the world that work hard to stay in touch.
3. The extended family that welcomes me with open arms.
4. My car for allowing me new freedoms and independence.
5. Access to the internet and the wealth of information I find there.
6. Three meals a day that are both tasty and nutritious.
7. The warm bed I sleep in.
8. My degree!
9. The people I meet on Meee programmes - you inspire me every day.
10. My sense of humour! It feels so good to laugh.
I want to challenge you to be grateful. Whatever you are doing, whoever you are talking to, make time today to show some gratitude for the people and things in your life that make you happy. It costs nothing and means the world to the people around you.
At Meee, our passion is people. We equip them with greater self-awareness, self-confidence and resilience so they can meet the inevitable ups and downs of life with grace, while learning to use them as stepping stones to a better tomorrow. All of our Coaching and Training programmes focus on the human being, not the human doing. Our Meee in a Minute books give readers quick in-the-minute tools and life hacks to shift thinking and help gain access to their best self not just in a crisis, but every day. Everyone deserves to be more Meee. Get in touch to start your journey to finding your Meee.