For Individuals

From the young to old we've helped thousands find their magic and transform lives
What makes successful people, successful?
Success comes in many forms and is deeply personal. What constitutes success for you may be different than for me. But successful people typically share some common traits.
They are motivated by a clear sense of purpose and seek to bring it to life on a daily basis, confident about who they are and their place in the world. They are life-long learners who push themselves out of their comfort zones, willing to try and fail in order to get better, step by step.
They can lead themselves, as well as others, taking accountability for their actions. They create possibilities, challenging the current reality and making change happen, instead of being affected by it.
They are optimistic, can understand and manage their emotions, and know they can improve things. Ultimately, they take responsibility to write the future story that they want.
What are we seeing in people like us?
27%
According to the World Happiness Report, negative feelings (worry, sadness, and anger) have risen 27% around the world in the last decade1.
45%
45% of adolescents are online "almost constantly." Screen time is displacing activities that are key to our happiness, like in-person social contact2.
2/3
Two thirds of adults globally report being happy. Great Britain and the United States only report 27% each3.
How can we help you?
With the right thinking, tools and practices, each and every one of us - from teenagers to professionals - can be more engaged, more energised, more enabled to show how amazing we are when at our best.
Our FUEL Programme
FUEL is all about excelling personally and professionally by understanding, creating and utilising your best attributes more of the time. How we think, feel and react to the world around us is a direct reflection of who we are, what we know and what we're fuelling ourselves with. Our emotional fitness is paramount to a happy, healthy and balanced life. FUEL starts with values and builds a foundation based on mindset, resilience and wellbeing.
Want to experience how FUEL can help you, your family and friends?
Our COACH Programme
Coaching is a proven way to improve individual performance whether the desired outcome is better personal leadership, greater resilience, professional focus or productivity. COACH facilitates a fundamental shift in mindset, behaviour and approach to the everyday. It is highly personalised to uniquely match your needs to transform results. COACH is available as a standalone solution or to reinforce the learning and impact from any of our programmes.
Want to experience how COACH can help you be better?
Meee Resources
Meee helps people be better. By building on your natural strengths and creating more positive pathways we aim to help you be happier, be healthier and be more successful.
From our best selling books to up to the minute press and written articles, we have a range of resources to help and support you along your journey.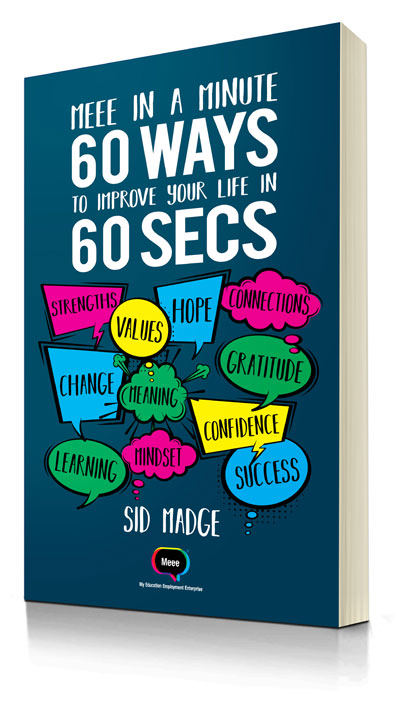 Meee in a Minute

60 ways to improve your life in 60 seconds
A collection of life hacks, advice, insights, science, stories, short exercises, quotes and more that can help you improve your life.
"I love this book. It's fast, it's practical, it's based on real experience and delivers real impact. A hand companion for life."
Chris Baréz-Brown,
Founder of Upping Your Elvis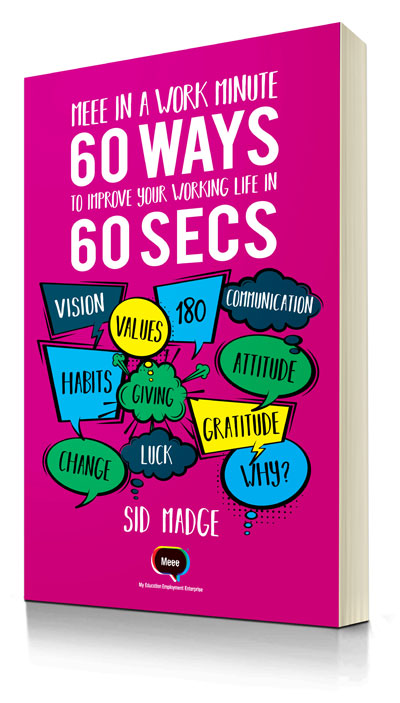 Meee in a Work Minute

60 ways to improve your work life in 60 seconds
Meee in a Work Minute celebrates, the world of work, the importance of it and the fundamental need that it's good for us.
"This book is small. So is your smartphone. And you can't stop looking at that. But when you look at this book it will make your feel better. 'Yeah, I can do this.' Your phone, as smart as it is, doesn't always do that. Does it?"
David Hieatt,
Co-founder of Hiut Denim Co and The Do Lectures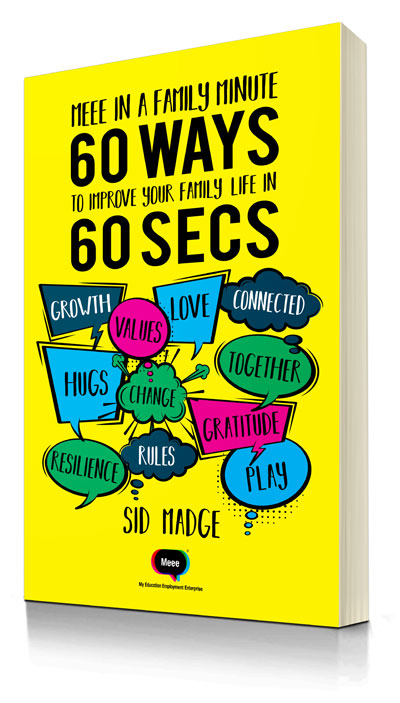 Meee in a Family Minute

60 ways to improve your family life in 60 seconds
A book bursting with useful tips and strategies to appreciate, engage with, enjoy, connect and reconnect with your family.
"I love the concept and the impact that this book has and as promised... so much can be achieved in 'just a minute!' (which is something I'm now constantly saying around the house!) Well worth having on the bedside table 100%"
Jenny Powell,
TV Presenter
What do people say about Meee?
"Life-changing!"
"I'm inspired to move forward with my life"
"Brilliant, insightful, helpful"
"Keep inspiring people the way you did me"
Want to experience how Meee can help you be better, be happier and be healthier?
References
1 World Happiness Report (2021)
2 ACPEDS (2021)
3 Ipsos (2021)