Meee Hosts Super Prison Workshop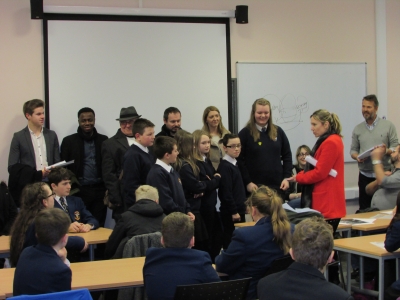 Meee was thrilled to take part in a schools workshop for the new Wrexham super prison, which was hosted at Glyndŵr University in January. Approximately 60 children aged 11-12 years old attended from Ysgol Y Grango, Ysgol Bryn Alyn, Ysgol Rhosnesni and Ysgol Clywedog.
The day began with Meee giving the children an overview of the new Wrexham super prison and the history of prison and punishment, followed by a session on brands where the children explored the use of colours, words and creativity in branding. The children were then briefed on the day's activities – to come up with a new name for the prison and an interior design to help inmates learn, be positive and use their time productively.
All schools were fully engaged in the day's activities, and each group of children came up with the most wonderfully creative ideas. In the afternoon the groups presented their ideas before a panel of judges, Dragon's Den style. The confidence and quality of the presentations was truly amazing. It was a tough job for the judges to decide on the winning team. The winning team, from Ysgol Clywedog, gave a very confident presentation full of fantastic ideas, naming the new prison 'Ganolfan Gadw Diwydiannol' 'Industrial Detention Centre'.
Sarah-Lou Gaffney, Glyndŵr's Widening Access Coordinator said "I was thrilled with the session delivered by Sid. His ability to engage and inspire some of Wrexham's hardest to reach young people was exemplary, and with such fantastic feedback, Glyndwr University is very much looking forward to working with Meee again in the near future."
Sid Madge of Meee said "it was an amazing day, the children were so engaged and excited about their ideas and the presentations were phenomenal. All of the children contributed some amazing ideas and it was a pleasure to be part of the day's activities".