Meee in Mold Alun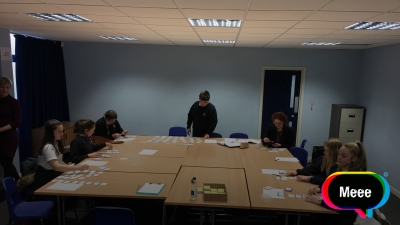 Meee recently visited Alun School, Mold for our second programme in the local high school. Our visit was kick started with a lunchtime meeting with the school council where we had the opportunity to speak to the student representatives about what changes they would like to the education system, what they felt works, what would make a difference to them and how the Meee programme would help to do this.
Following a successful meeting, two of the school council members reauested to join our session so they could see the programme for themselves!
In the session the young people learnt about Adam Braun and pencils of promise. This sparked the discussion of what can you do with a pencil; here are some of the incredible answers:
Write the cure for cancer with it
Sign something that would change somebody else's life
Draw your feelings
Give life to your imaginations
We are so inspired and encouraged by such enthusiastic and motivated young people. We cannot wait to work more with schools!