Meee - Remotely supporting teams the Refinitiv way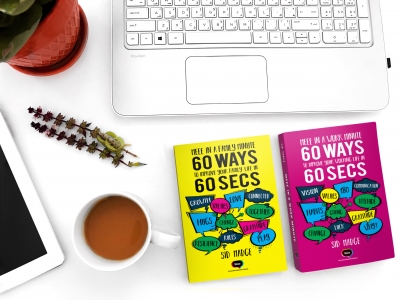 It has certainly been a challenging year for business so far. 2020 has brought challenges that have meant organisations have had to adapt quickly to a new normal way of working and supporting their teams. Refinitiv are one of those businesses that have been able to do so using a wide range of techniques. Led by their HR team they have approached the COVID-19 crisis with innovative ideas and have engaged with The Meee Programme as part of that journey.
In early July an event took place with Refinitiv colleagues from across the globe joining an online conference where a range of topics were approached in a session titled "Thriving in Turbulent Times". Sid Madge, founder of Meee joined this session leading a segment providing team members with informal advice and support for their families. Participants were also given a copy of his latest book 'Meee in a Family Minute' so they could refer back to strategies discussed in the session, and use it as a quick guide to positively move forward.
The session received much praise from those taking part:
"I enjoyed the workshop very much as it gave participants the opportunity to interact and learn from each other. It was a great hour to stop and reflect as a person and as a parent. In difficult or challenging situations, we tend to protect ourselves and perhaps over protect our kids too, but putting a brave face doesn't simply remove the obstacles. It is ok not to be ok! Creating a safe environment for the family is also about letting the kids be who they are, so they can find their own path; it entails giving them autonomy, connecting with them emotionally, making them aware of our feelings and involving them in our day to day life."
"I am a mom of 2 (1 and 5), and struggling currently on work life balance, with my young children's demands suddenly competing with so many priorities now that we are on VOE. I certainly appreciate Refinitiv promptly addressing such challenges by way of these webinars from very relatable experts such as Sid. There were practical approaches shared during the session, and I especially like the tip on giving autonomy to our children. My challenge right now is that I try to keep a list of things I need to accomplish for the day, to kind of keep a sense of control. However my toddler almost always has other plans and that kind of makes me crazy at times. It would probably do a lot of good to just let go as a parent and just let them be, especially in these circumstances where it's probably also stressful for them."
"I loved seeing how parents are kind of bouncing ideas around during the session as well sharing their own experiences, it made me feel a whole lot better after joining the session. Plus, a great book to top it off! I'm really looking forward to joining more of these."
"The informal discussion led by Sid was honest and informative which many of the Refinitiv parents valued and the accompanying book has good practical tips for parents and families with children of all ages."
We were thrilled that the session was useful for those that took part. You can find out more about the Refinitiv approach to supporting their teams through COVID-19 here; https://www.kornferry.com/insights/articles/perspective-covid-19-staying-ahead-of-the-crisis
Since 2015 Meee has transformed the lives of over 20,000 people. From influential business leaders, executives and teams in PLC's and SME's to parents, families, lecturers, teachers, pupils, carers, those out of work and in prison, we've used the magic of Meee to create remarkable leaders. Drawing from the best creativity and thinking from the worlds of branding, psychology, neuroscience, education and sociology we help people achieve extraordinary lives. Visit our website to find out how The Meee Programme can support you and your organisations using a range of innovative resources and services www.meee.global
For more information on the Meee Books series and to purchase visit www.meeebooks.com
About Refinitiv
Serving more than 40,000 institutions in approximately 190 countries, Refinitiv provides information, insights and technology that drive innovation and performance in global financial markets. Our heritage of integrity enables our customers to make critical decisions with confidence while our best-in-class data and cutting-edge technologies enable greater opportunity.