Meee @ This Can Happen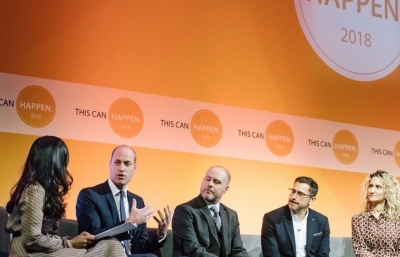 It's not often I use the 'WOW' word but This Can Happen 2018 at the O2 InterContinental London deserves as many WOW's as I can muster. Brilliantly organised with impeccable timings, from superb speakers to amazing food to incredible thought-provoking and life-changing content, This Can Happen 2018 had it all.
The day started with an introduction from Zoe Sinclair and Neil Laybourn, two of the founding members of This Can Happen. It was short and to the point and highlighted the massive need to address mental health in the workplace. They both sent regards from the other founder Jonny Benjamin, who was in hospital recuperating. It set the tone for what was an epic adventure of knowledge, information and personal story telling. HRH Prince William also spoke about about his own experiences of feeling 'very sad and very down' while working for the air ambulance. Prince William urged employers to look after the mental health of workers, something which is far too often over looked or ignored. Former police officer Edward Simpson gave a personal account of the pressures faced by him and many others serving on the UK's frontline. It was an incredible insight into the real stories of real people.
Barbara Harvey, Accenture served up some amazing facts and figures of how to be a champion of change within your own workplace. Marcus Gardiner, Softwire gave us a glimpse of the powerful way the digital world is and can be used to enhance all of our mental health at home and at work. Vinay Kapoor, BNP Paribas highlighted the issues faced by LBGT and BAME communities around the world.
All the panel discussions were brilliantly facilitated and every contributor gave us a personal outtake of their role in the young workforce, employer V personal responsibility and line managing mental health. I was particularly impressed with Daniel Callaghan, Shalah Akhtar and Gian Power who drew attention to issues faced by the younger generations and how these can be supported at work and in our communities.
It's hard to pick out a particular highlight from a jam-packed itinerary, but Victoria Milligan's personal tragedy summed up what the day was all about. Having lost her daughter and husband in a horrific family boating holiday in Cornwall, her story of the minute-by-minute, hour-by-hour courage, resolve, steel and belief was so powerful that it will stay with me forever. Victoria's honesty about how she coped and just took one step at a time to get through her tragedy. She highlighted how time is so very precious and that we must never take anything for granted. I would definitely recommend watching her TedTalk to hear more about her story.
You can watch the highlights from the This Can Happen 2018 here. A very special thank you to Sheny Lim, event producer who kindly made my attendance possible.
I am so looking forward to seeing how we can work with This Can Happen and to 2019's conference.