New Meee Shop Launched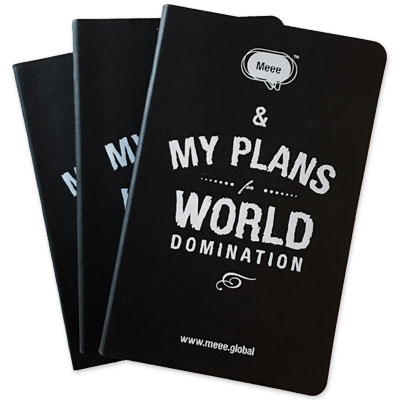 Here at Meee we are very excited to announce that our new online shop has now gone live on our website; the latest in a string of developments we have made to make our website bigger, better and, most importantly, more useful! The shop also marks another milestone in the development of the Meee Programme, as we continue to grow and go from strength to strength, over time more products will be added, but to start with we are very pleased to be able to offer our fabulous new notebooks.
Our high quality A6 Notebook with Burleigh Soft Cover and quality lined paper will help anyone with their plans for world domination. Great as a gift for someone else, or to yourself at the start of a new journey, the notebook is a handy size to carry with you all the time, so you always have somewhere to write down your ideas, or sketch your designs, or take notes; meaning you never forget something that could be crucial to your future success. We also know how important networking is at all stages of planning world domination so our notebook features a handy pocket on the inside back cover, so you can store important business cards and contact information on the go. You can find out more here.
Although a small step, our first product shows our commitment to keep growing, improving and succeeding with The Meee Programme, and we hope that our first product will help others do the same.