Sid Shares #16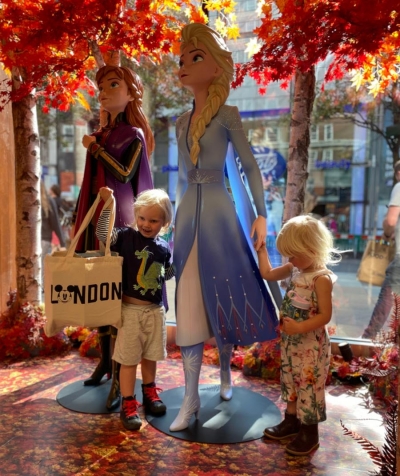 Sid Shares #16SidShares
Hi All!
Here is my October monthly dose of "Sid Shares." A list of what I'm enjoying and exploring. (The picture above is of Freddie (4) and Beatrice (2) enjoying the delights of Frozen 2 in London for my birthday.!)
Well September certainly delivered some wonderful weather and I happily celebrated another birthday! I'm not sure where we all are regarding Covid, but I hope you're all safe and managing to find some resemblance of sanity. What a crazy world...and with that thought I'm dedicating this month to 'Connection'. The more I live this wonderful (albeit fractious) life the more I realise everything is connected.
I'm a big fan of Rich Roll and every month he posts some amazing podcasts and blogs that add so positively to my life. I'm always thinking of how to be a better person and his recent podcast with Radhanath Swami is amazing. It's called 'In the search for light, the answer is love'. I've listened to it over and over again and just love it. Regardless of one's assumed status we are all equal...every being is our neighbour...and kindness is the universal language.
If kindness is our universal language then water is our universal fuel. Scott Harrison's Water Charity is a remarkable story about wanting to do the right thing and making the world a better place. For most of us clean and safe drinking water isn't an issue. But for 785 million people it is! It's certainly helped me realise that complaining about wearing a face mask is nothing compared to what millions have to endure on a daily basis.
I know I mentioned this last month but please do watch this great series called Down to Earth. It's available on Netflix.
Sadly The Do Lectures didn't happen this year but their content is always a great place to connect to inspirational speakers. One of last year's speakers was Youmna Chamcham. Her talk was titled Imagination Can Really Trump Anything and proves that creativity and imagination do change things. And that connection is what we're all about.
A poem I recently came across is What Issa Heard by David Budbill. It's a wonderful reminder of sorrow and beauty.
This quote from the inspiring and enlightening Radhanath Swami is beautiful..."True wisdom, true enlightenment… is to see every living being with equal vision."
Whether we connect through the arts, in person or via Zoom here's to discovering, celebrating and fostering more wonderful 'connections' in October...and beyond.
If you would like to, please give me feedback on email, Twitter or Facebook on any of the topics above. Or any thoughts you have or suggestions for the future.
If you would like more information about Meee and the resources please follow this link.
With love and blessings xxx