Sid Shares #24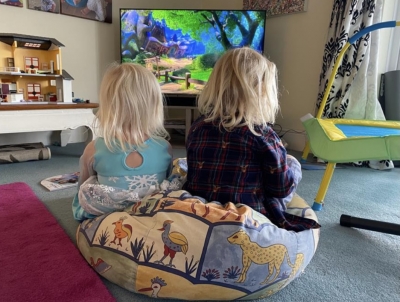 The above pic is of Beatrice (left) and Freddie (right) enjoying Sleeping Beauty courtesy of the Disney Channel (possibly my best purchase in 2020). I don't know about you but I still watch Disney films with the children and sometimes on my own. I love the sparkle of magic they exude. Someone said to me recently that they hadn't watched Frozen (1 or 2) because they didn't have any children. If ever there was a film to watch, regardless of age or having children it's Frozen. If you've not seen it then please do. It's awesome!
I'm dedicating June to 'Connection'. I'm fascinated why we create and have the connections we do. Not just the emotional ones, like love and human relationships, but all connections - food, animals, nature, technology, sport, brands, health...to name but a few. What's quite clear is that all life on Earth is connected – far more closely than most of us would ever have imagined. Looking at the rich diversity of life seems nothing short of a miracle. But why do we make the connections we do? Why do we keep the ones we do? And, what ones are we looking to make?
I'm a fan of Radio 4 (I think it's my age) and have it playing as much as I can. What I love about it is the amount you get to learn from some amazing people. I recently listened to The Virtue of Commitment on Thought Cages. It was a great exploration of human behaviour and really made me think about what connections I have, why I have them and what ones do I want to make?
Emotion plays a prominent role in our lives and explains why we make, keep and explore the connections we do. But most of what we know is imposed. Someone else has connected the dots to give whatever it is meaning for us. More often than not we don't challenge or question this, but happily, or not, go along with it. Science informs us that we're descended from Makgadikgadi Pan, Botswana about 2 million years ago. We've long known that we're closely related to chimpanzees and other primates, but did you know that humans also share more than half of our genetic material with chickens, fruit flies, and bananas? So, we really are more connected than we thought!
Here are some interesting and thought provoking short films that have helped me think about my connections:
Simon Sinek: Why to Wait Before Making an Emotional Decision.
Moment of Tangency: A Glimpse of What Might Have Been
Dumb Ways to Die (I've included this one as it's amusing but also really made me think :)
What I love about these short films is that we just do not know what we do not know. Or, who we're going to meet or how things will happen and end up. So much of my life has been over managed through worry, stress and anxiety, but no more. The possibilities for me, for you and for us all are truly unlimited and infinite. A shift in thinking and perspective is all it takes. This newsletter marks a two year anniversary and I would never have believed that it would get this far. But it has. I've come to realise, understand and cherish these little connections we have. The more I share what I'm enjoying and exploring the more I feel a sense of connection in trying to make my world a better place. By sharing and passing on the good stuff I hope you too will find some joy and benefit. For me it's about making happy, positive and joyful connections. I hope you do too.
This quote is from the amazing Susan Sontag "Do stuff. Be clenched, curious. Not waiting for inspiration's shove or society's kiss on your forehead. Pay attention. It's all about paying attention. attention is vitality. It connects you with others. It makes you eager. stay eager."
Please join me on my monthly Facebook Live sessions to help change or shift the energy in your life. If you fancy joining me here's the link. It's free and places are unlimited.
btw...Some people (and things) are worth melting for!
Happy June everyone. Let's hope it is a flaming one!
If you would like to contact me, please do on email, Twitter, Facebook or via my Podcast on any of the topics above. Or if you have any thoughts or suggestions for the future I'd love to hear from you.
"All great achievements require time"
Maya Angelou