Valentines Day Gift Guide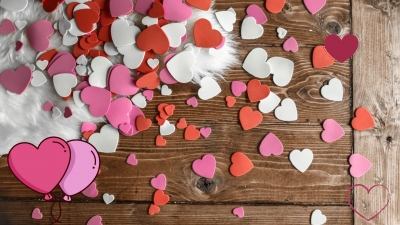 The best wellbeing gifts for 2022
Le Creuset Heart-Shaped Casserole Dish, £175
Surprise someone with a romantic meal for two in this heart shaped Le Creuset dish. This French casserole pot will be a valued purchase that lasts well beyond Valentine's Day.
LARQ Bottle Movement PureVis (Self-Cleaning Water Bottle), £78
Give yourself or a loved one a time-saving gift with this water bottle that actively self-cleans and improves water quality. The PureVis technology neutralises up to 99% of E.coli from your water and bottle. It is lightweight and comes in a variety of sleek colours from onyx to coral.
Available from:
Heart-shaped egg holder, £12
Crafted from aged Italian olive trees, this unique egg cup in the shape of a heart would make a sweet gift for someone who likes to keep their protein levels up with an egg each morning. By purchasing this sustainably sourced olive holder, you are also directly donating the cost of planting a new tree for the Eden Project in Cornwall.
Available from:
Clean G Rhubarb, £19
Non-alcoholic and zero sugar, Clean G Rhubarb is infused with fruit and botanical flavours, making a sophisticated yet health-conscious gift. Notes of rhubarb, juniper and citrus with a hint of mint and cinnamon mirror the taste of London dry gin but without the next-day hangover.
Available from:
Benefit chocolate, £3
This enriched chocolate bar gives you 50% of your daily vitamin intake. It is blended with 12 key vitamins and is suitable for a vegan diet. Gift this bar in a hamper or as part of a set so your loved one can indulge with these added benefits.
Available from:
The Green Roasting Tin by Rukmini Iyer, £17.99
Packed with 75 vegan and vegetarian recipes, give the green cook in your life inspiration for easy weekday meals that encompasses everything roast-able, from curries to tarts.
Foam Roller Water Bottle, 700ml
Hydration and foam rolling are two of the most effective ways to restore your muscles – this foam water bottle combines them, giving your loved one the ability to roll and drink on the go. You can make your roller cool or heated by adding cold or warm water.
Available from:
NIO alcohol-free cocktail set, £19.50
Milan-based NIO has created alcohol-free cocktails and mocktails for some Valentine's day fun through the post. There are warm and cool flavours such as a ginger sour or lemongrass citrus which only need ice to complete the experience.
Available from:
Lakeland personal blender and sipper bottle, £46.99
Smoothies are a great way of getting plenty of fruit and veg in your diet. This compact and lightweight blender is surprisingly quiet, making it a gift for you as well as your partner.
Available from:
Pick 'n' mix tea gift box, £20
Personalise your partner's tea selection with this gift box that lets you try Bird & Blend's range of blends. You can pick from its wellness tea that covers remedies for colds and stress as well as a range of decaffeinated teas. Helpfully, as it is loose tea, the box comes with some tea sacks to get you started.
Available from:
Vegan Valentine's gift box, £24.95
Treat the one you love to an indulgent box of pure deliciousness with the help of Positive Bakes. Think chewy, fudgy brownie and blondie bites and heavenly cheesecake-inspired puds made with a crumbly coconut biscuit base then topped with sweet-sour raspberry pieces or a generous amount of salted caramel. Plus, you get bonus points for buying a gift that's vegan, gluten-free, palm oil-free and packed in compostable packaging.
Available from: